Doylestown Window Treatments
Call (215) 646-8242 for Doylestown Window Treatment Services
Doylestown Window Treatments Company
---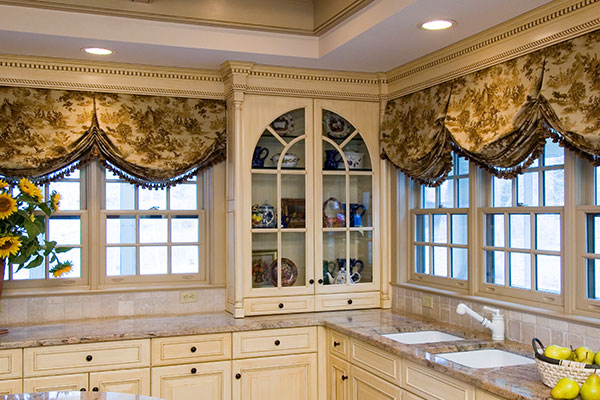 Green Door Interiors is the leading Doylestown window treatment company providing custom window treatments, drapery and window shades in Doylestown PA. At Green Door, we specialize in a full range of custom made window treatments and coverings for interior designs, bathroom designs, kitchen designs and home remodeling to help give your living space new life. We have worked with many clients in Doylestown Pennsylvania and the surrounding area for many years and have the necessary experience to your home a fresh look. Your home is your personal space and it should reflect who you are. Our primary focus is your satisfaction, so we tailor our window treatment services for each individual client.
At Green Door Interiors, we are fully dedicated to providing window treatments and coverings designed especially for you. Our workroom fabricates a wide variety of our custom designed soft treatments including pleated drapery, ripple fold drapery, grommet drapery, roman shades, balloon shades, bedding, pillows and more. Every client has a different vision that they want brought to life, so we work closely with them to personalize every window treatment and design. We have worked on treating windows in Doylestown PA for over 18 years and have an appreciation for all unique window styles and designs. When you're searching for a custom window treatments company in Doylestown, contact Green Door Interiors today.
Doylestown Window Treatments and Custom Window Designs
---
At Green Door, our window treatment products are all selected from the most respected resources in the area, allowing us the flexibility to custom-tailor our services for you and your Doylestown home. Whether you're looking for traditional shutters, wood blinds, vertical blinds, solar shades or cellular shades, we are fully equipped for all custom window coverings in any lifestyle. Our goal is to help you create an authentic living environment that will reflect your personal style, so we will listen carefully when you discuss your goals and vision. We want to bring your dreams and desires to life so we can develop a proper designer-client relationship with you.
When getting custom window treatments for your home in Doylestown, we will communicate with you to answer any questions or concerns you may have. You deserve the experience of a luxurious lifestyle and want to hear your ideas. We will bring our years of experience and inspiration to bring out the beauty of your space. If you're not sure what you think will work best, we can share ideas and help you every step of the way. Our Doylestown window treatments can go a long way in adding something extra to your living space. When you're looking for a window treatment company or for custom window shades and blinds in Doylestown Pennsylvania, put your trust in Green Door Interiors. We will go the extra mile to ensure your complete satisfaction. Give us a call at (215) 646-8242 to request a consultation.
Our Doylestown Window Treatments Include:
Pleated Drapery
Ripple Fold Drapery
Grommet Drapery
Roman Shades
Custom Curtains
Balloon Shades
Bedding & Pillows
Plantation Shutters
Traditional Shutters
Cellular Shades
Roller Shades
Solar Shades
If you're searching for a Doylestown window treatment company or are in need of custom window treatments, custom blinds, or custom shades in Doylestown PA 18901, contact Green Door Interiors or call (215) 646-8242 to schedule a consultation.
---
Green Door Interiors

Blue Bell, PA 19422 – Serving Doylestown PA
Phone: (215) 646-8242
Hours: Monday-Friday – 9:00AM to 5:00PM
---